Cleaning Anything in Santa Barbara
2/18/2019 (Permalink)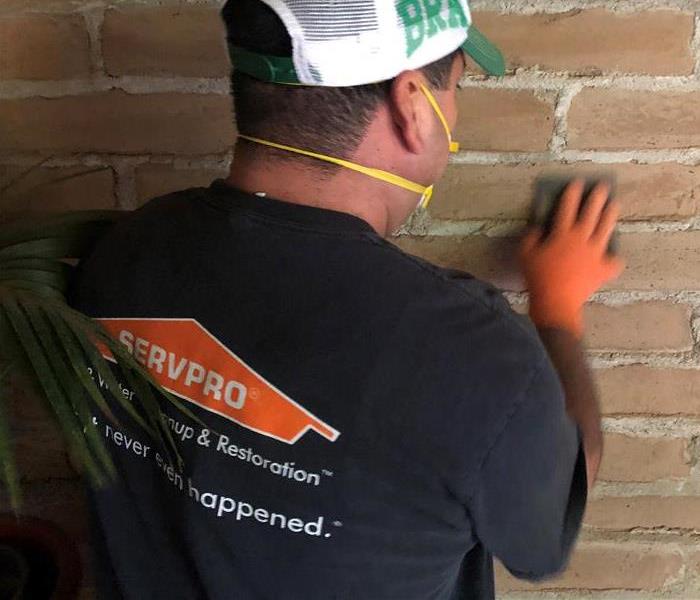 The SERVPRO technicians had never cleaned adobe before but they learned quickly and achieved amazing results
After the Thomas Fire, soot found its way onto everybody's houses. For most people, if they wanted their home to be cleaned, it was simple enough to aim a pressure washer at the roof and walls and rinse it off. Even for the folks that did not want their homes cleaned, the wind and rain took care of much of the cleaning work eventually.
One day though, we received a phone call from a woman in the hills above Santa Barbara. Her home was made of adobe bricks and the soot had left staining. Pressure washing was not an option because the bricks are fragile and porous. Fortunately, here at SERVPRO of Santa Barbara, we are able to tap into the long list of resources available to the SERVPRO franchises. That list includes the Professional Cleaning Staff and chemists at SERVPRO Corporate. When in doubt, these experts are only a phone call away and there is rarely a situation that they have not already seen.
We were able to contact the Cleaning Staff and together we devised a method to clean the adobe. Our technicians did not have a ton of experience with this task but what they did have was access to knowledge which is just as valuable. In the end, the customer was impressed with how hard-working the professionals from SERVPRO of Santa Barbara were and she was quite pleased with the end result. That is why people choose SERVPRO. We try not to say "no" and if we can figure a way, we will get it done.
If you have a job that has been vexing you, give us a call at 805-963-0606.