Santa Barbara Water Damage Can Be Restored by SERVPRO
12/4/2019 (Permalink)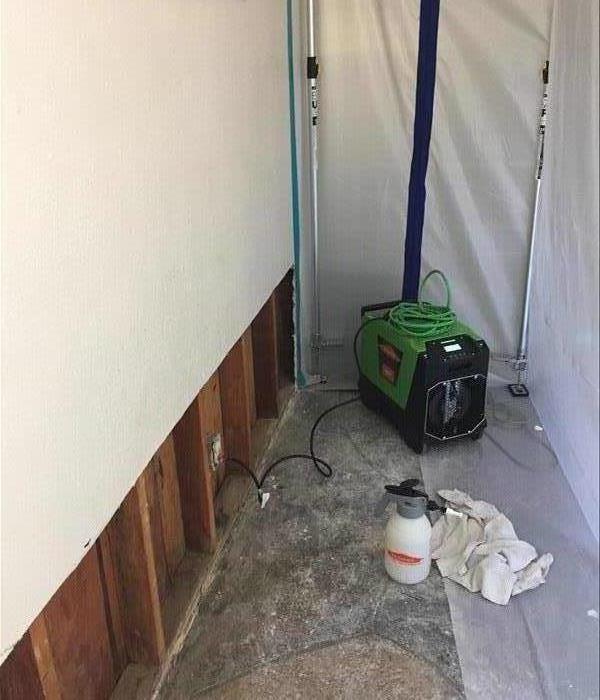 SERVPRO set up containment, removed water damaged drywall and insulation and set up drying equipment.
Certainly it is not pleasant to have to deal with flood damage, but here are some practical measures that you can personally implement to reduce the flood and water damage in your Santa Barbara home. Before you leave, place furniture, appliances, electronics, and family memorabilia on boxes several feet off the floor level to prevent water damage. Secure foodstuffs in plastic trash bags to keep them dry and avoid contamination. Shore up all openings to your structure the best you can. Every effort you make to protect your property from rising flood waters, will save you time and money during the water damage restoration process that will occur.

Always have a plan for your pets, should you face a deluge. For instance, if you have to stay in a hotel, at someone's home or in a shelter because of flood damage to your home, they may not accommodate your pets. Be willing to drive your pet to a facility even in the next town or city if need be. Or have a friend as a backup plan on your list that you can call who would be prepared to take your pet. If you leave your pets at your home, they can feel the stress and cause more additional damage to your home. Also, they are potentially at risk if flood waters rise and you cannot return home for several days to feed them.

It is imperative that you shut off the electricity, especially in the areas of your house that are more prone to flooding. If you are planning on evacuating the premises, turn off the electric at its source, the main electrical panel. Do not attempt to deal with this if there is standing water. Call for help from professionals. There is a very high risk of sustaining an electrical shock or worse by you, family members or someone working in a flooded area of your home. If the water has reached the level of the electrical sockets with live current, at best the circuit breaker will short the circuit. Be prepared to call in SERVPRO when the water recedes for water extraction, drying, cleaning, and sanitizing your property. Floodwaters can transport sewage, chemicals, fertilizers, and other substances that are harmful. Electrical appliances such as the furnace, freezer, washer, and dryer can pose real safety hazards during flooding. Unplug them if possible.

Take emergency contact information with you to keep family members and friends informed of your situation. Don't forget the chargers for your mobile devices. Utilize emergency media messages for information and The American Red Cross for shelter.

SERVPRO is an industry leader in providing post-flooding restoration for commercial and residential properties. With our industry leading equipment, specially formulated cleaning and sanitizing products, and highly trained technicians who are instructed beyond the IICRC standards, we can help. From a quick emergency response to water extraction and drying and cleaning, we can restore your water damaged home to pre-flood condition "Like it never even happened."
Locally Owned Company with Huge National Storm Resources
As a locally owned and operated business, SERVPRO of Santa Barbara and Santa Ynez/Goleta is strategically located to respond quickly to your water or flood damage event. We proudly serve our local communities of Santa Barbara, Goleta, and Santa Ynez Valley. Call us for immediate response to mold, fire, and water damage 24/7 at (805) 963-0606