Parking Garage Mess
5/8/2019 (Permalink)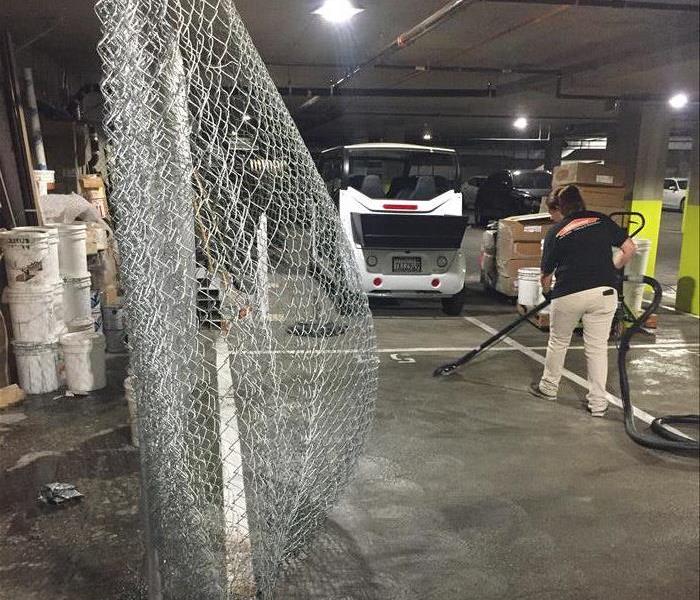 Sewage in a hotel parking structure expertly handled by the professionals from SERVPRO of Santa Barbara
Sometimes the calls come during the week between the hours of 9:00 am to 5:00pm. Many times they do not. Pipes do not care about your sleep. They do not care about if you had a party planned or if you just got finished with your renovations. When they decide to leak or burst, it is their decision, not yours.
This weekend it was the pipes in a local hotel that decided that is was their time to clog and spill their contents. Fortunately for the hotel, the loss happened in their parking structure. Unfortunately for the hotel, these pipes carried raw sewage. Smelly and unhygienic, the sewage quickly made its presence known. This was definitely a job for SERVPRO of Santa Barbara.
Our professional technicians rushed to the hotel and quickly began work. After treating everything with an anti-microbial solution to begin the sanitization process, the guys did the dirty work of extracting whatever liquids they came across. They steamed the cement to make sure all of the surfaces were as clean as they could be and finished up with another healthy application of disinfectant. Before long, the garage was ready again for cars. Another mission accomplished for SERVPRO of Santa Barbara.
When your parking structure…or office or warehouse or store…decides to have a water damage, call SERVPRO of Santa Barbara at 805-963-0606 for quick results.